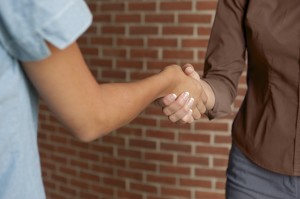 Welcome!
Thank you for visiting the Christ Lutheran Church website. We're glad that you're taking the time to look for more information about our church. In case you haven't seen it yet, here's our mission statement:
As a spiritual family united in faith in Christ, we exist to:
Strengthen believers in faith through life-long study of God's Word (Know Jesus)
Live a life of thanks to the Lord (Live for Jesus)
Win the lost for Christ by sharing his love and forgiveness (Share Jesus)
Notice how our mission statement emphasizes the message of Christ. We recognize that because of our sins, we deserve punishment. But because of Jesus our Savior, God graciously gives the gift of eternal life to all who believe in him. This good news motivates us to carry out our mission as a church. We invite you to join us as we study God's Word and share its message with those around us!